2nd Inter school AI Formula Edge Competition 第二屆校際人工智能E-級方程式賽車比賽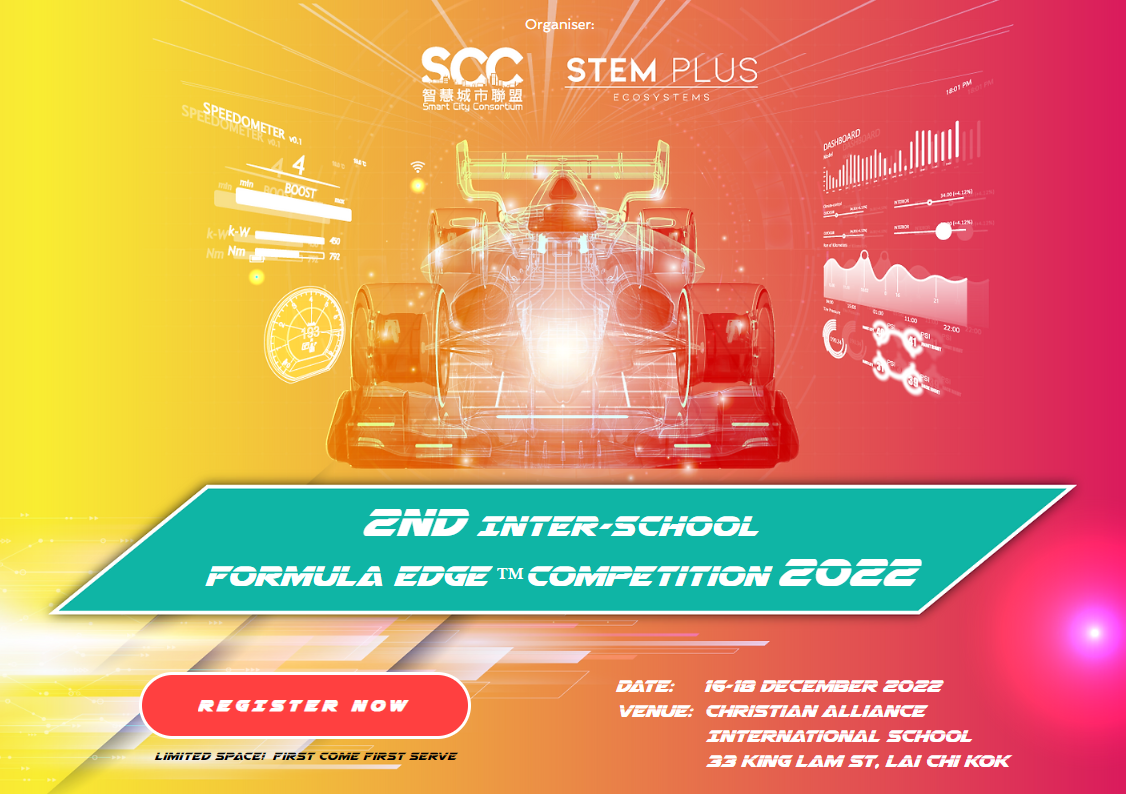 Date: 16-18 December 2022
Venue: Gymnasium 5, Christian Alliance International School
Organisers主辦機構: 
Smart City Consortium
STEM Plus Limited
Smart City Consortium (SCC) is formed by a group of professionals from different corporations and organizations to provide opinions and suggestions to the Government for formulating related policies and standards in the development of Hong Kong as a world-class smart city.
The STEM Plus Limited is an experienced event organizer and a supplier of STEM products and solutions. STEM Plus Limited is a subsidiary of Hung Hing Printing Group Limited (0450.HK) and a corporate member of Smart City Consortium.
Background
Why AI?
To the general public, Artificial Intelligence (AI) is complicated and impossible to understand. However, it's an approach to managing and processing data; it's rooted in engineering; a way of problem-solving and designing solutions in an entirely new way
Why Formula-Edge?
Edge computing is computing that's done at or near the source of the data, without the need of subscribing to a public cloud, reducing overall entry barrier to learn and apply the latest AI technology, making it more approachable to teachers and students.
Why self-driving cars?
Amid the idea of a self-driving car is actively studied and tested for use on the road, with many open-source software, powerful single boards computers (which are widely used in schools around the world) and machine learning tools available on the market, it becomes easier for teachers and students to create a self-driving vehicle.
Objectives:
The 3-day competition aims to motivates students to learn the latest AI technology without the need of expensive equipment via constructing such a car on a small-scale using parts and software that are accessible to anyone on an affordable budget.
Expected outcome:
Build up participants' skills in coding (python), robotics and building intelligent AI model
Strengthen participants' skills in team building and critical thinking
Serve as a simple testbed for different ideas in self-driving vehicles
Target Participants: P6 students or above in Hong Kong
Total number of participating schools: 20
Total number of participating students and teachers: 300+
Participation fee: HK$950 per team of 4 students + 1 teacher.
Participation fee including the following
Admission to the 3-day competition
Two pre-competition practice days with onsite A.I experts to give advice.
Certificate for participation
3-day Lunch and beverage for all participants (teachers and students)
Venue size of the competition: 1,200sqm.
Competition hours: 09:00 to 18:00 on 16-18 December 2022
Expected number of visitors: ~400
Details of the participating rules and panel judges: (pls see http://www.formulaedge.org )
For more details of the competition, please contact STEM PLUS Limited (Richard Wu +852 5547-6888 or This email address is being protected from spambots. You need JavaScript enabled to view it. )