SCC智慧生活展館@曼谷「成就機遇.首選香港」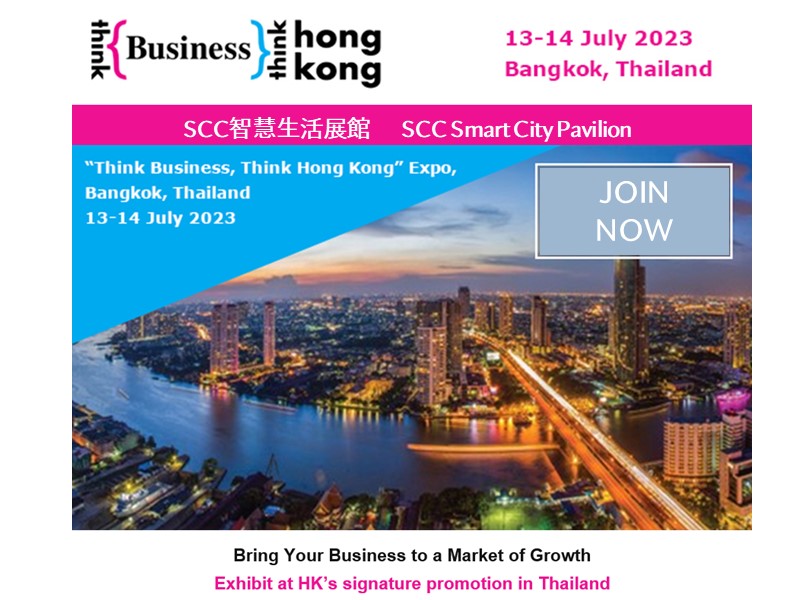 Think Business, Think Hong Kong「成就機遇.首選香港」is a signature promotion campaign organised by the Hong Kong Trade Development Council (HKTDC) to showcase Hong Kong as a resilient business and innovation hub facilitating global businesses to capture new demands and realise business opportunities worldwide. The event will be held at Centara Grand and Bangkok Convention Centre at Central World in Bangkok, where Hong Kong and Thai business communities will convene to explore new partnership opportunities through networking, meetings and insight exchanges.
"Think Business, Think Hong Kong" Expo is a two-day B2B trade exhibition that showcases a wide array of innovative products from Hong Kong with anticipation in tapping into new business opportunities of Thailand and nearby countries
More details please visit https://thinkbusinessthinkhk.com/ .
SCC will stage a "Smart Living Pavilion" at "Think Business, Think Hong Kong" on 13-14 July 2023 in Bangkok, Thailand. HK companies in smart living sectors interested in Thai and the ASEAN market are encouraged to apply for participation to the SCC Smart Living Pavilion.  Interested companies please register on https://forms.gle/mXFGGhDNSQgwh7Kt9 on or before 21 April 2023.
Successful SCC participants can enjoy free participation fee. The SCC Pavilion is funded by the Trade and Industrial Organisation Support Fund (TSF), while the HK Software Industry Association (HKSiA) and HK Information Technology Joint Council (HKITJC) are Collaborating Organisations. For enquiries, please call Mr Cheng/Mr Ip at SCC Secretariat on 34804230 or email This email address is being protected from spambots. You need JavaScript enabled to view it. .
香港貿易發展局將於2023年7月13至14日在泰國曼谷舉辦大型商貿推廣活動 ─ 「成就機遇.首選香港」,向泰國及其他東盟地區的商界展示香港作為環球營商樞紐的角色及香港的優質產品和服務。詳情請瀏覽 https://thinkbusinessthinkhk.com/
SCC將於曼谷「成就機遇.首選香港」上設置「SCC智慧生活展館」,介紹香港公司與智慧生活有關的服務或產品。歡迎有興趣開展泰國以及東盟業務的香港科技公司申請參加,截止申請日期為4月21日,報名請瀏覽  https://forms.gle/mXFGGhDNSQgwh7Kt9 。查詢請電34804230或電郵至 This email address is being protected from spambots. You need JavaScript enabled to view it. 與SCC秘書處鄭先生或葉先生聯絡。SCC展館由工業貿易署「工商機構支援基金」撥款資助,香港軟件行業協會和香港資訊科技聯會為合作機構。